Our secure VPN sends your internet traffic through an encrypted VPN tunnel to keep your browsing data safe, even over public or untrusted internet connections.
As a Swiss VPN provider, we do not log user activity or share data with third parties. Our anonymous VPN service keeps your browsing history private and enables an internet without surveillance.
We created Proton VPN to further protect the journalists, activists, and everyday citizens who use Proton Mail. Proton VPN breaks down the barriers of internet censorship, allowing you to access restricted online content.
Internet security for everyone
Our goal is to make online privacy accessible to all. We have focused on making the advanced security technology in Proton VPN easy to use and freely available.
Free VPN
We believe privacy and security are fundamental human rights, so we also provide a free version of Proton VPN to the public. Unlike other free VPNs, there are no catches. We don't serve ads or secretly sell your browsing history. We are able to provide Proton VPN Free thanks to people who subscribe to a Proton VPN paid plan. If you would like to support online privacy, please consider upgrading to a paid plan for faster speeds and more features.
Easy to use
The best security tools in the world will only protect you if used correctly and consistently. We have simplified the Proton VPN interface to make it as intuitive as possible on all of your devices — so you can stay protected every day, hassle free.
Fast VPN speeds
Proton VPN uses a 10 Gbps server network combined with our unique suite of VPN Accelerator technologies to improve speeds by up to 400%. We use an advanced network TCP flow control algorithm to provide unparalleled performance and connection stability without compromising on security.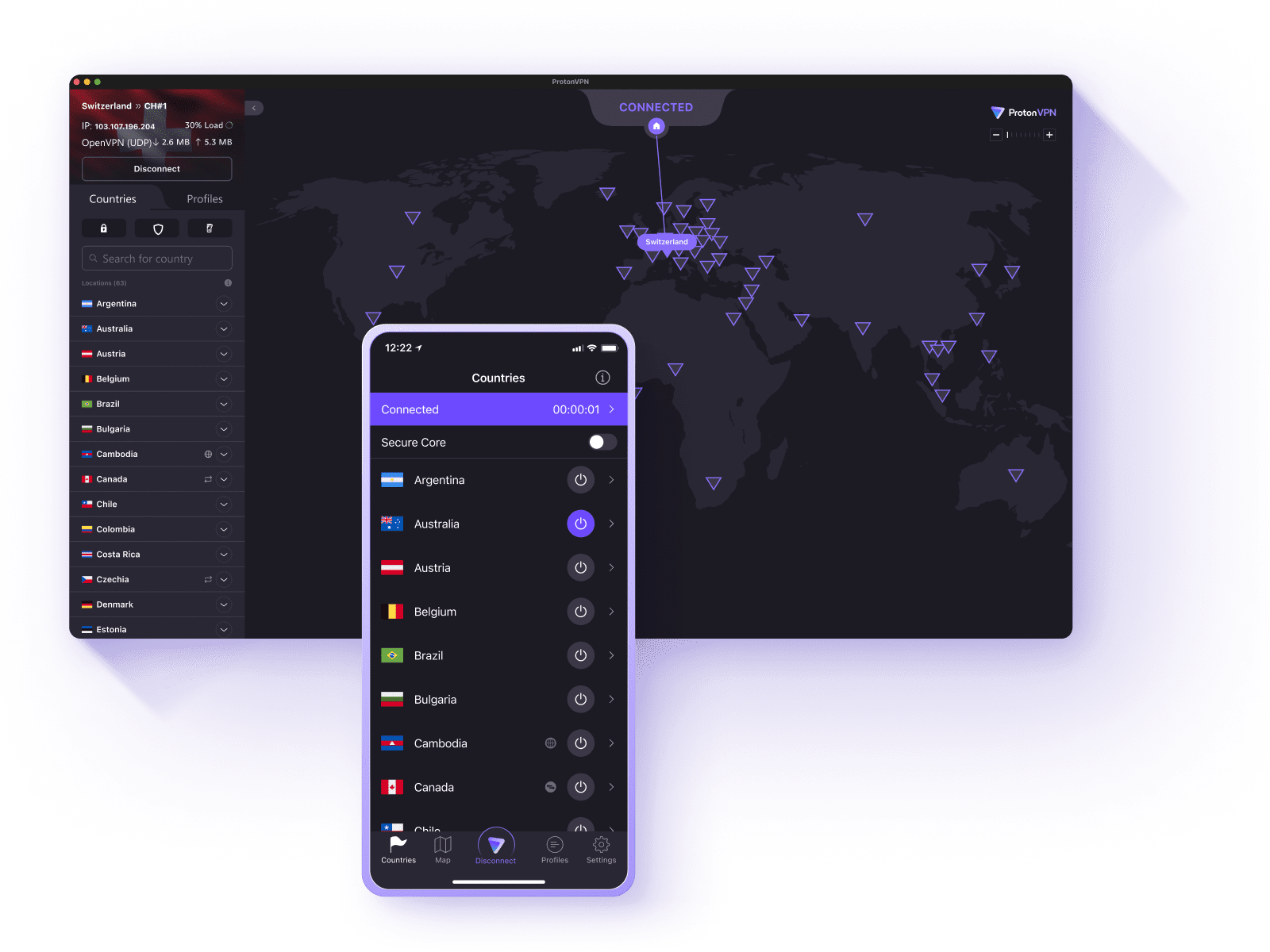 Multi-platform Support
Proton VPN is available on all your devices, including PCs, Macs, smartphones, and even routers. A secure internet connection you can trust is essential to maintaining your privacy on your laptop at home, your mobile device on the road, or your workstation at the office. Proton VPN has native apps for Windows, macOS, Linux, Chromebook, Android, Android TV and iOS/iPadOS.
Stream from anywhere
Proton VPN unblocks a wide selection of popular online media services, allowing you to access your favorite streaming content from anywhere in the world as if you were at home. Our fast server network and unique VPN Accelerator technology also ensure your experience is smooth and free of buffering.
VPN Accelerator
VPN Accelerator is a set of technologies unique to Proton VPN that can increase your VPN speeds by up to 400%. We created VPN Accelerator to dramatically increase speed and performance by overcoming CPU limitations, using advanced networking techniques, and redesigning VPN protocols themselves..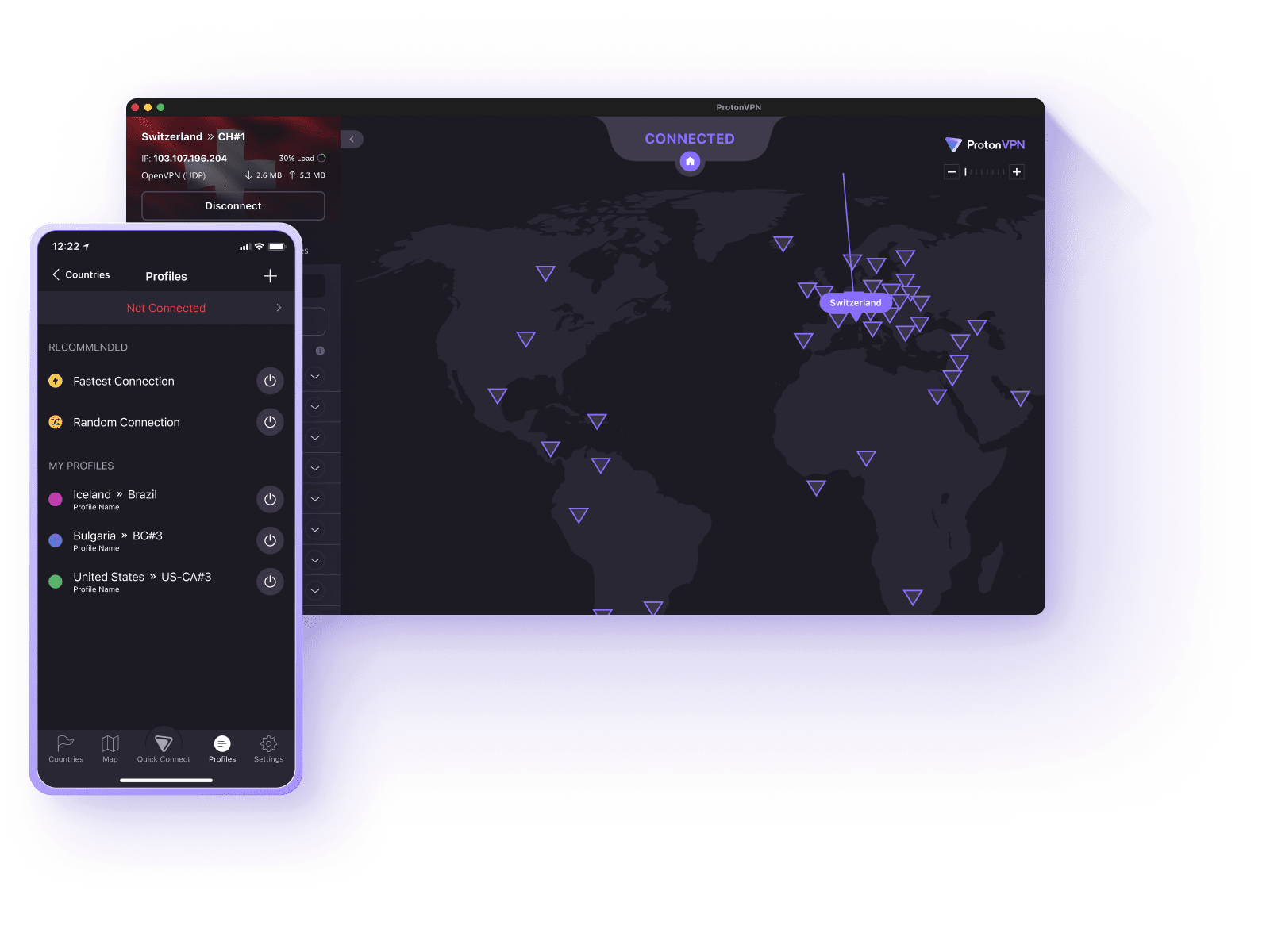 Global VPN server network
Proton VPN has hundreds of secure VPN servers all around the world, including several free VPN servers. This ensures there is always a high-bandwidth server nearby no matter where you are connecting from, providing a low-latency VPN connection for browsing, streaming, and bypassing censorship.
We are the
scientists

,

engineers

, and

cryptographers

who built Proton Mail

The world's largest encrypted email service

Our story begins where the web was born - at CERN, where our founding team of scientists met.

Like Proton Mail, Proton VPN is a community supported project with a simple goal: to build a safer internet that also protects civil liberties.
Unique features for a more secure VPN
Unlike other VPN services, Proton VPN is designed with security as the main focus, drawing upon the lessons we have learned from working with journalists and activists in the field.
Secure Core
Regular VPN services can be compromised if their servers are under surveillance. Proton VPN mitigates this by passing your traffic through our Secure Core network in privacy-friendly countries like Switzerland and Iceland first. By routing your traffic through a privacy-friendly country, we keep your true IP address hidden even if an attacker compromises the endpoint server.
Perfect forward secrecy
Proton VPN exclusively uses ciphers with Perfect Forward Secrecy, meaning your encrypted traffic can't be captured and decrypted later.
Adblocker (NetShield)
NetShield is a DNS filtering feature that protects you from malware, blocks ads, and prevents website trackers from following you as you surf the web.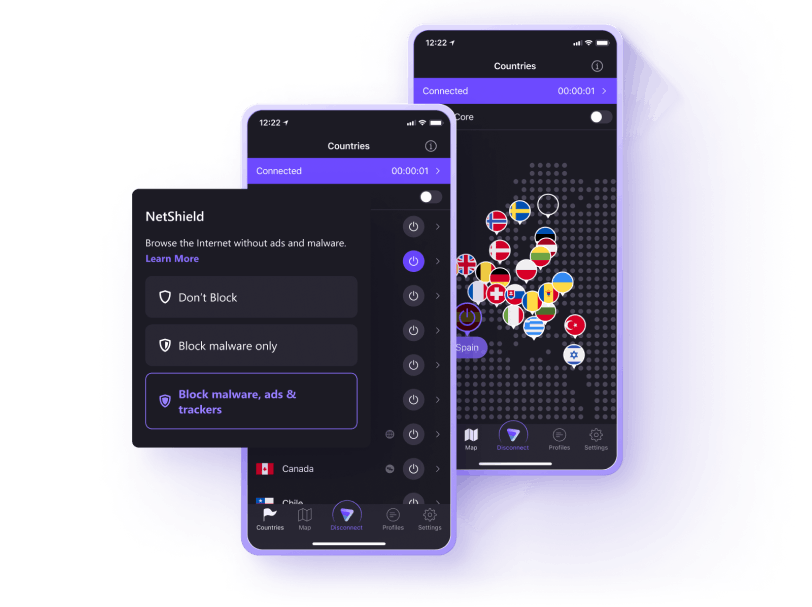 No-logs policy
Proton VPN is a no logs VPN service. We do not track or record your internet activity, and therefore we are unable to disclose this information to third parties.
Tor over VPN
Proton VPN also integrates with the Tor anonymity network. With a single click, you can route all your traffic through the Tor network and access Onion sites.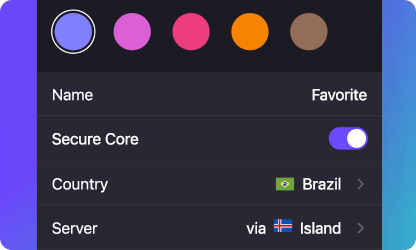 Custom connection profiles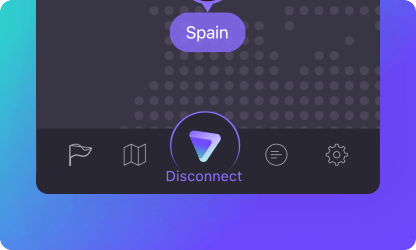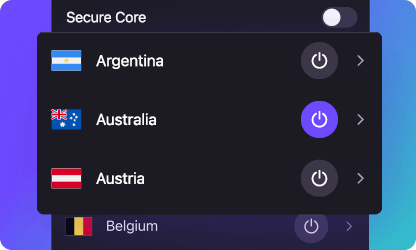 Follow us on social platforms
Secure your internet
Strict no-logs policy
All apps are open source and audited
High-speed servers (up to 10 Gbps)
Based in Switzerland
30-day money-back guarantee