Download Proton VPN for your device
swipe right or left to explore all values
A VPN app that puts your privacy first
All Proton VPN apps are built to ensure your internet connection is secure and private. As a community-supported service, we listen to our users to develop the VPN features that suit your needs. This includes the ability to watch many popular streaming services.
Secure and open source VPN
Proton VPN helps keep you safe on the internet, preventing your ISP and government from spying on you and websites you visit from identifying and tracking you.
Secure Core servers
For additional security, you can route your connection through one of our Secure Core servers before connecting to another Proton VPN server in any country. Secure Core servers are under our direct control and are located in privacy-friendly jurisdictions.
Kill Switch and Always-on VPN
Our Kill Switch disables your internet connection if the VPN disconnects. Always-on VPN automatically re-establishes a connection to our servers. These features ensure that Proton VPN keeps your data safe even if your connection is interrupted.
Based in Switzerland with a no-logs policy
Proton VPN is headquartered in Switzerland, which is home to some of the world's strongest data privacy laws and free from American and European surveillance agreements. Swiss law does not require us to keep logs of users' internet activity, allowing us to maintain a strict no-logs policy and protect our users' privacy.
Adblocker (NetShield)
Our apps use DNS filtering to prevent your browser from loading websites that host malware, and to block ads and online trackers. NetShield is available for VPN Plus and Proton Unlimited users.


See all features >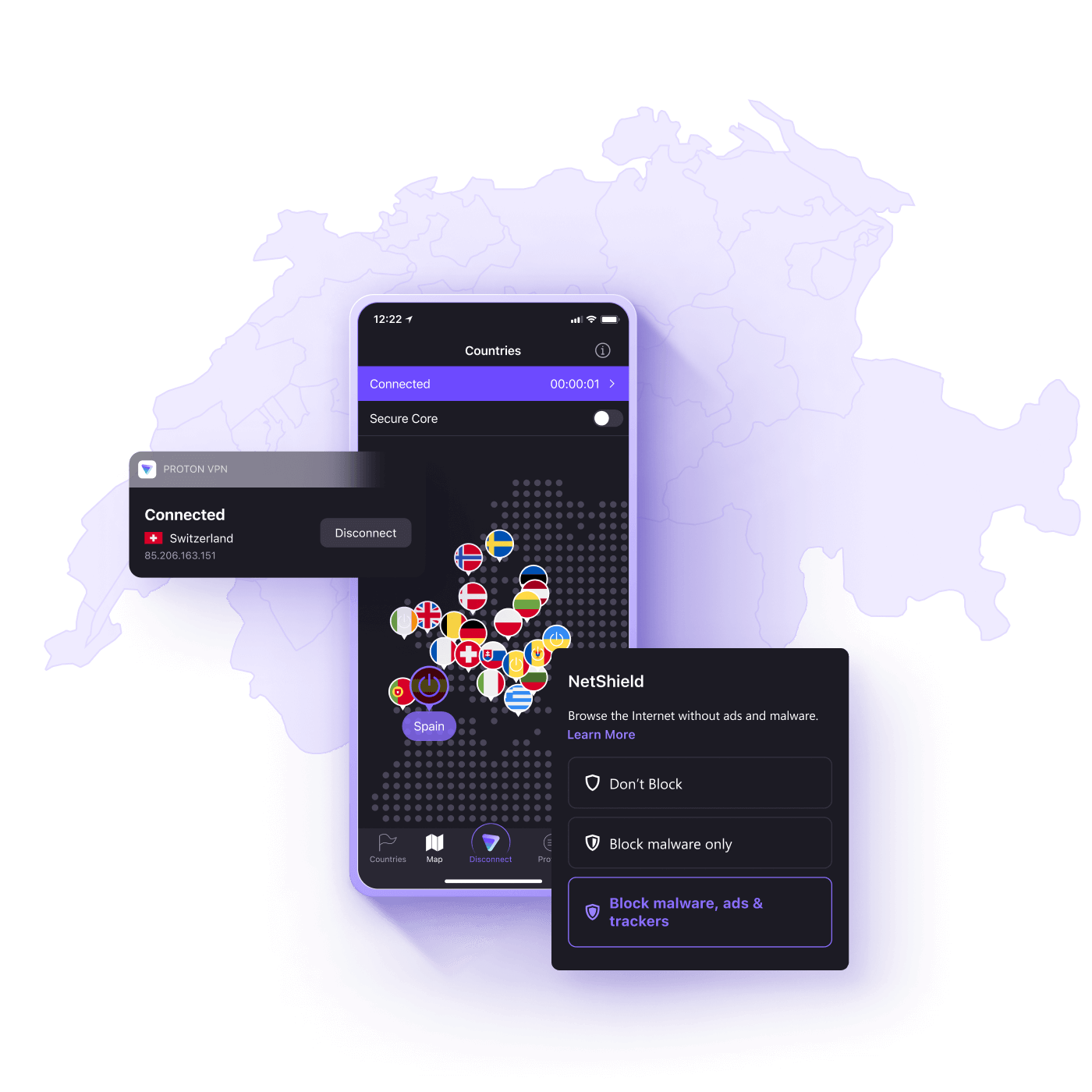 Avoid blocks and access censored content anywhere
Our apps are designed to defeat censorship and provide a free and open internet for all
Unblock streaming sites
ProtonVPN unblocks popular streaming services like Netflix, Hulu, Disney+, and more, for anyone with a VPN Plus or Proton Unlimited Plan.
Alternative routing
In places where VPN connections are blocked, the app will attempt to establish a connection to our servers using alternative networks.
Tor access
Connect to one of our special Tor-enabled VPN servers to seamlessly access the Tor anonymity network without the need for Tor Browser. This feature is available to those with VPN Plus and Proton Unlimited plans.
P2P support
VPN Plus and Proton Unlimited users can torrent on any of our servers. Servers that are optimized for P2P are marked with a two-arrow icon in the app.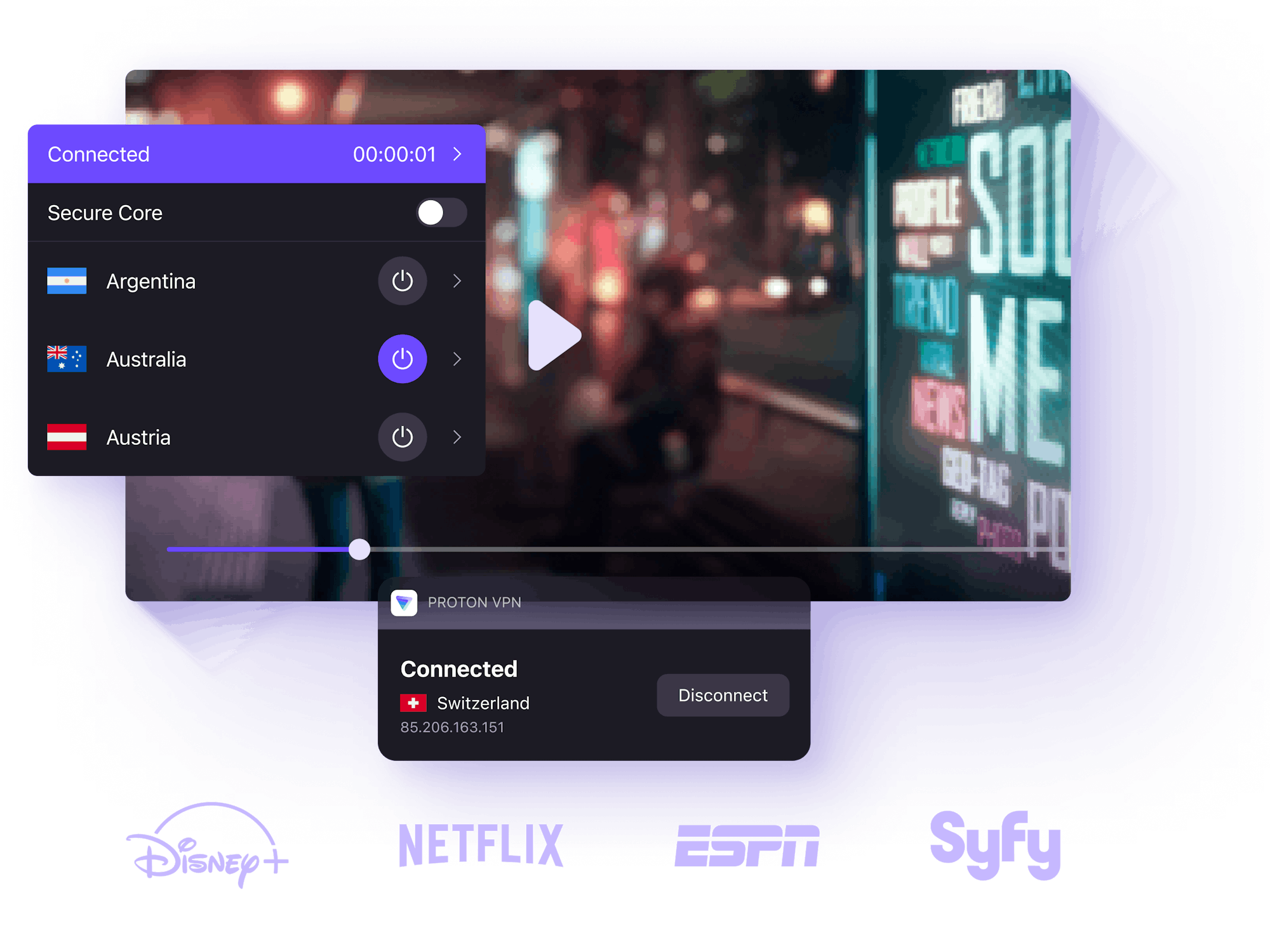 Simple, high-speed VPN
Proton VPN apps are designed to give you quick access to high-speed servers while also being easy for anyone to use
Split tunneling
Split tunneling gives you control over which traffic goes through your VPN tunnel. For example, you could choose to exempt some websites from your VPN connection to continue accessing them with your local IP address.
Quick Connect
All our apps feature a Quick Connect button, which automatically connects you to the fastest, nearby server. Or you can select a specific server based on location, server load, or special features (such as Secure Core or P2P).
Smart Protocol
Manually choose between OpenVPN, IKEv2, and WireGuard on apps that support them, or let our Smart Protocol feature select the best option for your needs.
VPN Accelerator
Free and available to everyone who uses Proton VPN, our unique VPN Accelerator technology can improve speeds by over 400%.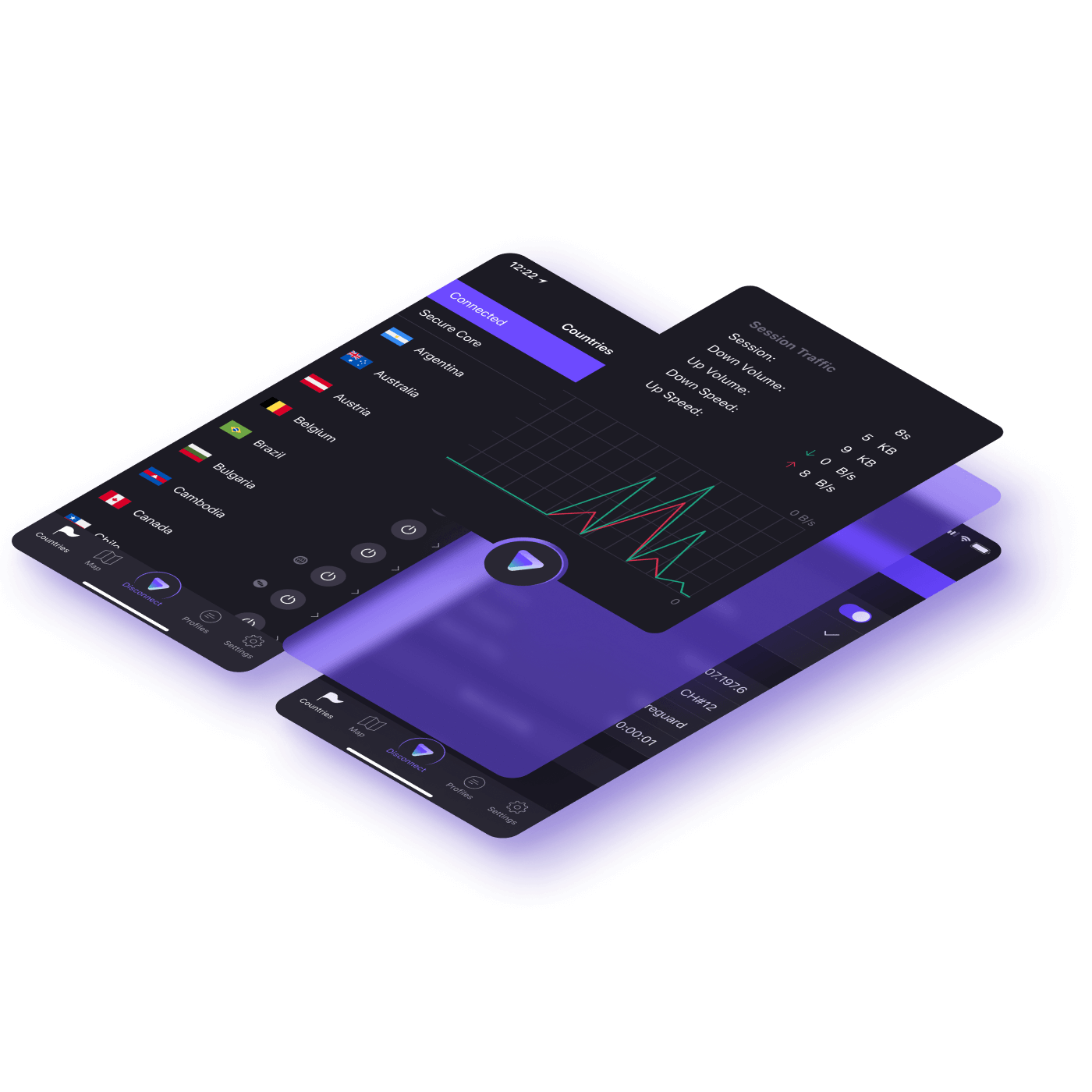 How to connect to Proton VPN
Proton Mail users already have a Proton VPN account - just sign in with your existing Proton credentials
Secure your internet
Strict no-logs policy
All apps are open source and audited
High-speed servers (up to 10 Gbps)
Based in Switzerland
30-day money-back guarantee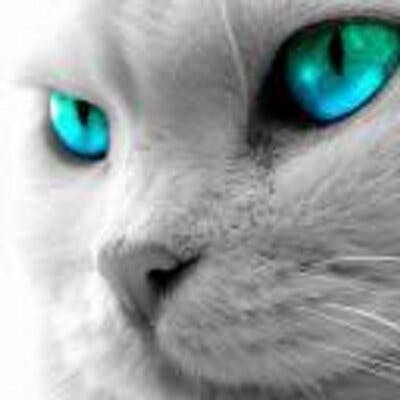 @ProtonVPN

(new window)

Wanted to thank you for the outstanding service your company offers - I have used vpn service over the years, and seen many. The speed and reliability of your client software surprised me, instantly - it's World Class, and better.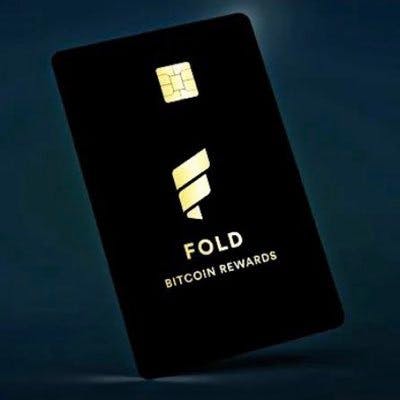 I highly recommend @ProtonVPN for an extremely secure VPN with a great reputation. And you can bundle it with @ProtonMail to make your email private instead of having google or yahoo, etc from scraping your inbox and selling your data