Proton VPN reviews
Proton VPN is a community-driven VPN service. We listen carefully to our community and shape our product according to the needs of our users.
Not a user yet? Get Proton VPN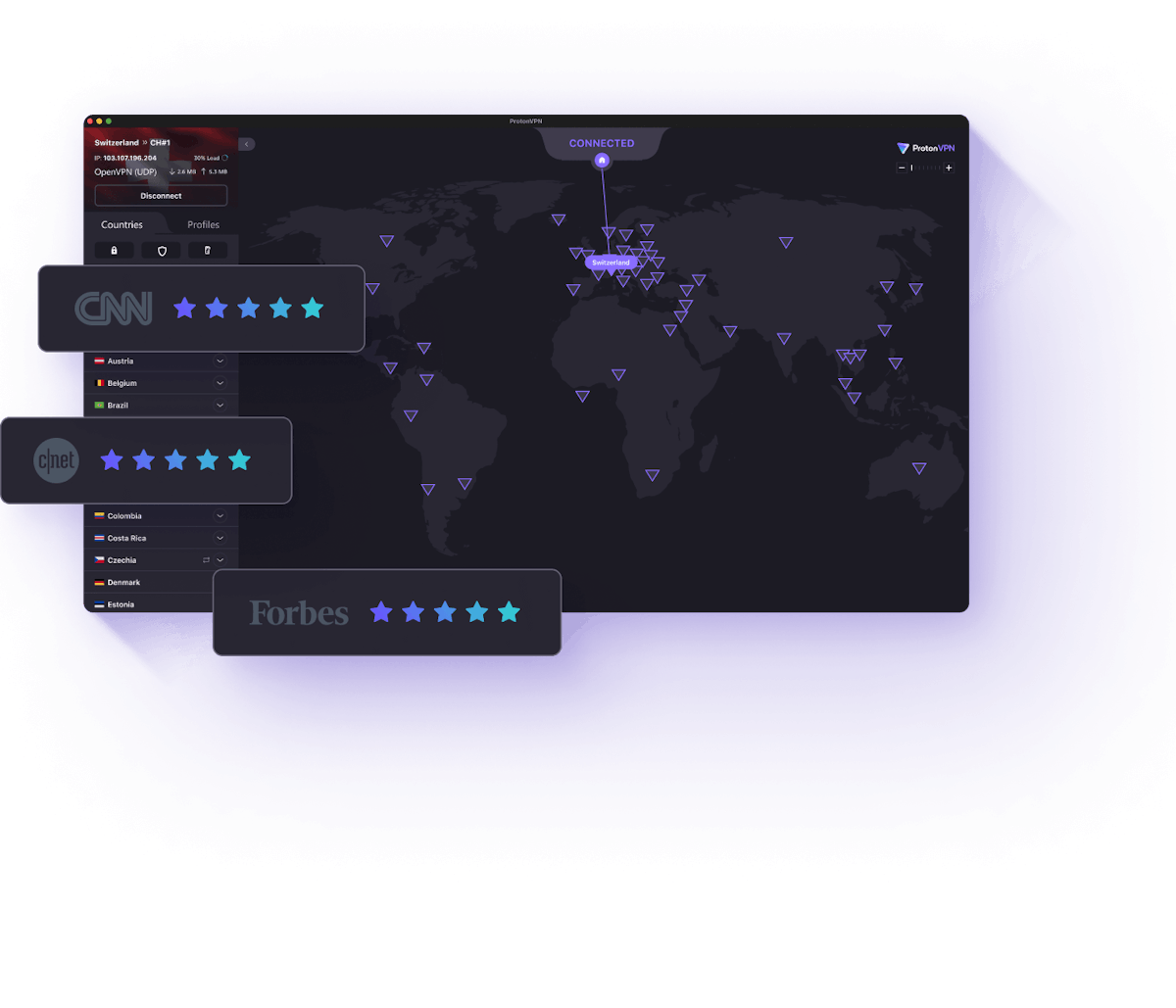 Say something about Proton VPN on social!
Let's see what Proton VPN is about
Security & encryption
Proton VPN is a Switzerland-based VPN service that keeps no logs of your internet activity which can compromise your privacy. Our apps are all open source and use only the most secure VPN protocols. Below you can learn more about our privacy and security features.
Strong encryption protocols
Our apps use OpenVPN and IKEv2 because they are secure VPN protocols, and we implement them at their strongest encryption settings.

For example, both OpenVPN and IKEv2 use the following security features:
AES-256 is an NIST-approved cipher that protects your actual data. It is used by the US government to secure top secret information.
RSA-4096 is a cipher that secures the TLS key exchange used to establish a secure connection between your device and our VPN servers. There are no known methods to defeat RSA when used with a 4096-bit key size.
Forward secrecy generates new keys for each VPN session, so even if one session is somehow compromised, no others are. Keys are also rotated regularly within each session
Our apps offer several additional security features to ensure your safety on the internet. DNS leak protection and IPv6 leak protection ensure that your data is always routed through our servers and never to a third party, for example. Meanwhile, our optional kill switch feature stops your internet connection if the VPN ever disconnects, keeping your data protected.

"Regardless of which plan you choose, you're backed by an impressive security and privacy."

"It's hard not to be impressed with the lengths Proton's gone to to shore up security and privacy in both its Proton Mail and Proton VPN service."
Trust & transparency
Proton was founded by MIT and CERN scientists, and our ethos is grounded in research, peer review, and transparency. To this end, all our apps are 100% open source so that anyone can examine and collaborate with us to improve our code.
GDPR- and HIPAA-compliant.
Proton VPN's apps for Windows, macOS, iOS, and Android are also audited for vulnerabilities by third-party security firms, the results of which are freely available for anyone to view.

What little data Proton VPN keeps (such as billing information) is protected by Swiss data privacy laws that are among the strongest in the world. We are fully GDPR- and HIPAA-compliant.

Proton VPN publishes a transparency report that details any notable legal requests we receive.

Unlike some other VPN services, Proton VPN is completely open about who we are. The physical address of our headquarters and the names of our directors are a matter of public record(new window), and the names and backgrounds of our leadership team are readily available.

"We were impressed to see that all Proton VPN apps are now open source and audited, though, a level of transparency you'll rarely see elsewhere."

"Top tier provider dedicated to superior security and transparency."
Ease of use
Our service is very easy to use and requires zero technical know-how. Once you have installed one of our apps, just select one of our VPN servers to connect to.
Quick Connect
Your connection will now be secure, and you will appear to access the internet from the location of the VPN server you have selected. Our apps even offer a one-click Quick Connect button, which allows the app to pick the best server for you.

"Famous Swiss security in an easy-to-use VPN"

"It places an enormous emphasis on security and user privacy, and has an excellent client that's very easy to use."
Prevent DNS and IPv6 leaks
Our apps offer an exciting range of features. They will keep you safe on the internet by preventing DNS and IPv6 leaks, and all of them feature a kill switch to stop you from accidentally connecting to the internet if the VPN connection fails.

"Proton VPN's base speeds sent it blazing past most of our roster of tested services"

"It also offers a suite of advanced privacy tools usually reserved for far more expensive products."
Customer support
Our knowledgeable customer support team will personally assist you whenever you encounter a problem. As a community-driven service that relies on your support to build a more free and open internet, our interests are closely aligned with yours. We therefore take great care to resolve any question, request, or issue promptly and efficiently.
The Proton VPN website features a support center that makes it easy to get up and running with our service. It includes:
Guides on how to set up a free account, how to enable two-factor authentication for your account, how to reset your Proton VPN account password, and a description of how our human verification account security feature works.
Full and easy-to-follow download and setup guides for our Windows, macOS, Linux, Android, and iOS apps.
General information, such as how to share your VPN connection via an Android hotspot and which browsers you can use with Proton VPN.
In-depth guides on accessing streaming content from the likes of Netflix, Hulu, Disney+, Hotstar, Peacock, and HBO Max.
Troubleshooting tips which address specific concerns raised by our users.
A speed and bandwidth guide that provides a detailed explanation of the apps' user interface.
If you require further assistance, simply contact our expert support team.

"We found Proton VPN's customer service to be friendly, thorough, and helpful."

"As part of our VPN Proton VPN review, we checked out the knowledge base on the company's site and found it to be extremely helpful, containing the answers to all the most common questions that might arise."
Pricing & Free VPN plan
Proton VPN offers three paid plans, plus a Free plan with no data limits or artificial speed restrictions.

"Its amazing free version that has no limit on data usage, it's an Editors' Choice winner and one of the best VPNs"

"Regardless of which plan you choose, you're backed by an impressive security and privacy"
Access to our fastest servers and all our advanced features
10 VPN connections
Servers in 60+ countries
Highest speed (10Gbps)
Strict no-logs policy
P2P/BitTorrent support
Adblocker (NetShield)
Secure Core VPN
TOR over VPN
Access blocked content